There is this crazy idea going around that embracing, celebrating, calling attention to, and, let's say, singing along with SIN will somehow make the hard-hearted, stiff-necked people doing that SIN not want to do it anymore or feel some sort of love or get some sort of spiritual message or want to turn to God someday. There is absolutely nothing in the scriptures that says that is what works;in fact God says the very opposite: give them consequences, tell them the truth, preach the gospel to them, don't let them be numbered among you, blot out their names, hope they repent. And yet an embrace of homosexuality and other godlessness, sans any warning or religion or Christ whatsoever, is exactly what the Mormon Tabernacle Choir representing the Church of Jesus Christ of Latter-Day Saints has done, continues to do, and did this past month in no uncertain terms in San Francisco during the infamous gay pride month, parade, and festivities.
Yes, this past month the MoTab reached out, planned, participated in, and pretty much yucked it up with all things LGBT during the most famous public display of human depravity in the world today. Yes, their hotel was on the gay pride parade route about which some choir members were positively giddy and camera-happy. Yes,
they invited a gay men's chorus
solely because they are homosexual
in their gay t-shirts to sing with them for a sound check. Yes, they had the out, proud, homosexual leader conduct them in "This Land is Your Land, This Land is My Land" for the encore number of the concert they put on. Yes, to thunderous applause and cheering. Tears and rejoicing. Thrills and chills.
One choir member admitted to feeling confused and disappointed at first when faced with this untenable situation. But she trusted in her leaders and bought the misapplied line that we mustn't judge anyone or anything. She ate up the flattery about their glorious music working miracles. Hmmm. The only thing we saw happen was a mob-mentality group being brought around to embracing and celebrating and encouraging a sin they previously thought unspeakable and their sacred scriptures condemn and their consciences recoil at.
We have news. If there are still some people who do believe there are such things as right and wrong, God and the devil, righteousness and sin, sexual purity and sexual impurity, this land is not our land. It belongs to the godless and the lawless. As we have seen increasingly play out, the righteous (those who still believe in God and His laws, and are repenting continually through Christ) will not be allowed to live, work, speak their consciences, raise their families, and who know what else, in this land.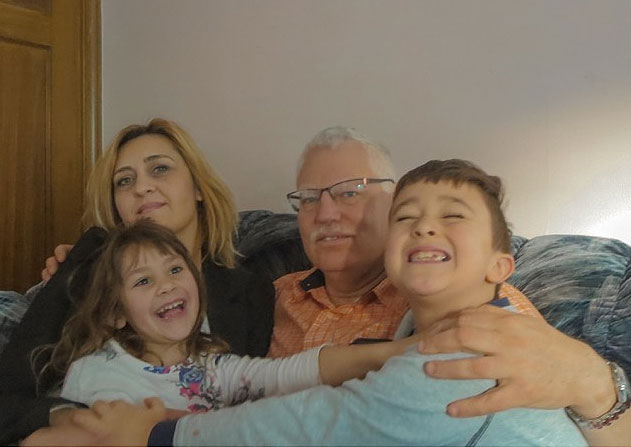 Case in point:Two years ago a Canadian man, a Christian activist named Bill Whatcott, had the temerity to offer fliers containing medical information and uncomplimentary photos, some graphic, about the lifestyle and health risks of LGBT behaviors and a Bible scripture about the gift of repentance. He lost his job, is being sued, was
arrested and held in jail
, abused, etc.. This is all about one man offering fliers (which no one has to pay any attention to) purportedly being seen as a threat to the psychological well-being of all manner of proud evil-doers who are loudly parading their self-destructive licentiousness in the streets in front of children! What about
the children's
psychological well-being? What about Bill Whatcott's?
This intolerance to Christianity is coming to an American city near you. And no, good and evil singing in harmony is a fantasy. There is no getting along. There is no unity. One side is going to be in charge and take over and punish any resistance. That's how it has always been. The difference now is that when in our lifetimes good has prevailed, evil is now in control. Yes, the godless are making and enforcing a whole bunch of arbitrary sentiments and rules. And no goodness equals no justice. We are forfeiting our freedom! Who knows what the standard for "hate crimes" will be next? What if the powers that be just decide you're
feeling or thinking
something they don't like? This is not unheard of. Read your history.
It's worse than Sodom and Gomorrah. People are either deceived and caught up in the wickedness, reduced to singing along with sin, as the MoTab (which for all intents and purposes has turned into a big pillar of salt), or they are ignoring the whole situation and will be spewed out of the Lord's mouth. Or a few, just a few, are paying attention and actually care and are taking a stand and may be charged and persecuted, lose their freedom and perhaps lose everything---wait---everything except their immortal souls.
Happy 4th.
Postscript 8/6/18
We got some more info on this. From our source most of the choir did not know about this event, as in any interaction with a gay choir in San Francisco. The choir actually resisted the event when it found out. It sounds like they were sort of tricked into it. Public relations departments are running the church apparently, and what public relations have to do with religion, we don't know. Are these people called or hired? Anyway, while it sounded like choir leadership was thrilled with the festivities, such as inviting the gay men's choir director to lead the Tabernacle Choir in an encore number at the concert, at least some of the choir members were confused and embarrassed about the whole thing and had a hard time enduring it. And yet, we are also informed that some members of the choir itself are gay; some enjoyed the whole thing very much; in addition, returned LDS missionaries belong to the gay choir. We were told that "good will" is the overarching reason the choir exists. Come again? Call yourself a civic club or encounter group then, not a religion. Any Christian church's foremost purpose is to preach the Word of God, awaken consciences, and shape the proper ethics of the people. What happened in this event was the very opposite. What people came away with was that the LDS church is softening on sexual sin.