Children live what they learn. Does anyone doubt this? And yet the same people who insist babies are born with all sorts of crazy sexual ideas in their heads will use their positions of authority as adults, teachers, or leaders to put all sorts of crazy sexual ideas into children's heads. How does that work? If kids are already born that way, why do we need to teach them all things LGBTQAI, etc.?
They may argue that transgenderism must now be introduced and taught in schools so other kids will accept the trannie kid and not bully them. Right. Do they really not know they are putting ideas in children's heads? After all, this is what teachers and adults do. TEACH. As Plato said, adults teach children what they should think of as right and good and what they should think of as wrong and disgusting. The problem is not that kids aren't being taught at all---they are always being taught if only by example and the culture around them. The problem is that now the powers that be have made a whole new set of rights and wrongs, what? about 10 seconds ago, that are totally contrary to the whole of human history and experience and literature and biology and reality. And they are quite actively teaching this new base and baseless morality. It's really quite insane. But it's worse than that. It's evil.
As a new school year begins, in elementary schools across America, little school kids are being treated to some attractive new picture books about glorifying transgenderism in childhood. One is called
Red: A Crayon's Story,
published by Greenwillow Books and snapped up like candy by librarians and teachers everywhere.
From what we can gather, in this picture book a red crayon that is actually the color red goes through life feeling bad until it finally decides it is really a blue crayon because it miraculously colors an ocean blue (or thinks it does, because everyone knows it's impossible for a red crayon to color blue), after which the crayon's confidence and acceptance by others skyrockets. If you don't believe this book is meant to be for children about changing one's sex in childhood,
read here
.
Nowhere in this agenda are children to be told facts such as: if they get confused or tampered with they need to tell someone they trust, and it's quite common for children to go through stages such as boys being sissy-ish and girls being tomboy-ish and that they will quite naturally grow out of these phases. Oh no. No truth allowed.
Yes, this book about a crayon discontented with its obvious, natural self is the first book being read to many children this year, at back-to-school orientation no less. School hasn't even started yet and we have heard of kids being treated to more than one group reading of this book. And it's only one of many, which are more specific, such as
Jacob's New Dress, The Sissy Duckling, Roland Humphrey is Wearing a What?, The Only Boy in Ballet Class, Annie's Plaid Shirt, Be Who You Are, Ballerino Nate, Not All Princesses Dress in Pink, Backwards Day, Morris Micklewhite and the Tangerine Dress, Oliver Button is a Sissy, My Princess Boy, A Fire Engine for Ruthie
, etc.
One of our questions is: who are these people whose priority (over reading, writing, and arithmetic) it is to mess with kids' core biological identities as male or female and normal sexual development? Where do they get the nerve to do such a thing? We'll tell you who they are and how they possess the temerity. They are those who have been conditioned and deceived into furthering the sexual revolution, those think themselves morally superior by their supposed inclusivity, those who are victims of unresolved child abuse themselves, those who have been unsuccessful in their own normal relationships and have become embittered and wish to recruit children into sharing their misery, those who are personally involved in homosexuality, or those who actually desire to introduce little children to risky and perverse sexuality, which is child abuse. Pick one or more or add some of your own. What other reasons could there be for interfering with children in this highly inappropriate way other than ignorance, pride, bitterness, sin, and evil?
And again, the anti-bullying excuse doesn't cut it. Most everybody gets made fun of, even cruelly, in their lives for some reason or another, and it usually has nothing to do with a person's sex, male or female. The reality of this situation is that everybody is being made to conform to a very few people's whims or disorders. When the rules are made according to exceptions, there are no more rules. C. S. Lewis called this the fatal principle. In this case, we're all supposed to ignore certain observations and facts and upend certain customs that help ensure safety and order, give of our personal resources, and even allow our little ones to be exposed and exploited, all to accommodate a very tiny demented demographic. Make no mistake, there are and will continue to be fatal repercussions in every aspect of civilization directly related to this twisted, free-sex social experiment.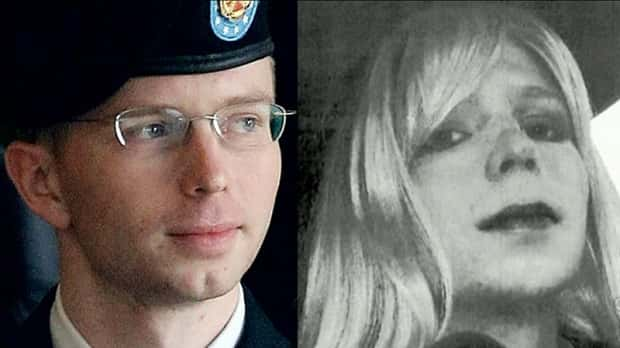 FYI, Bradly Manning, the soldier who betrayed our country bigtime, who announced he was a female trapped in a male body the day after he was charged with treason, who demanded free sex-change treatments and surgeries while in prison, had previously broken up with his boyfriend. So you see what we have here is a man having sex with men and then pretending he is a woman, what, so he can have more sex with men? Whatever. You can bet it's all unimaginably perverse. Because of a pardon from Obama, Manning got out after serving 7 years of a 35-year sentence. He was there long enough to steal our tax dollars for the travesty of pretend sex-change treatment and become a national phony hero, or rather, phony heroine. Again we say, it has been found that post treatment transgenders are 20 times more likely to commit suicide than the general population.
And this glorification of all things homosex is what our elementary schools are insidiously teaching innocent, pre-pubescent children. Plato would call it downright disgusting.